Alice In Wonderland-Inspired Elopement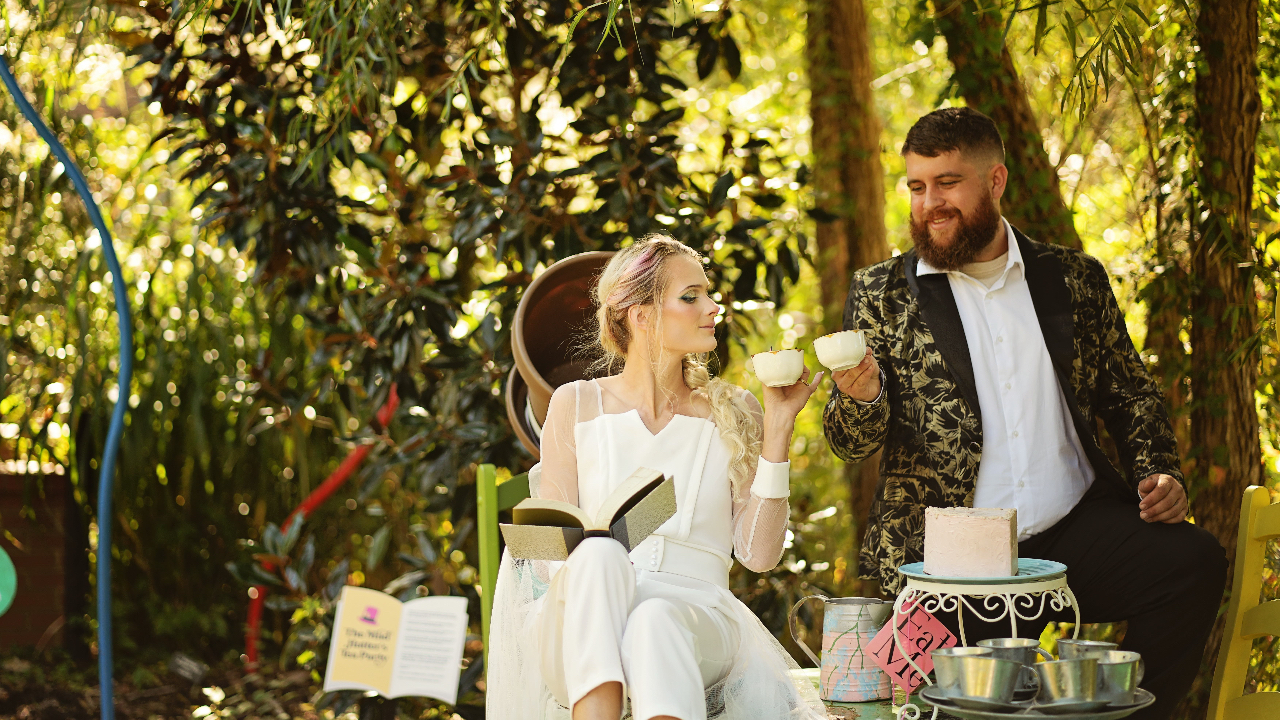 Alice in Wonderland-Inspired Elopement Styled Shoot at Memphis Botanic Gardens
In this whimsical-styled shoot, Alice is getting married! Memphis Botanic Garden's exhibit, Alice's Adventure, set the stage for this quirky wonderland elopement photographed by Memphis-based photographer, Cindy Thymius with Cindy B. Thymius Photography. The larger-than-life Alice in Wonderland-themed sculptures on the grounds are constructed of thousands of annual bedding plants that carpet steel armature forms. Various characters encompassed the exhibit such as the Red Queen playing her curious version of croquet, Alice spinning through wonderland, and card guards and pawns defending the chess set.
Elopements Gaining Popularity
Eloping has become popular in the past few years for couples who want to take the pressure off of wedding planning. Traditional details can be thrown out the window for modern couples looking to create a day that makes them feel comfortable without having to make sure 100-plus guests are comfortable, too. After all, the higher the guest count, the more logistics couples have to take into consideration. When all is said and done, a marriage is about making a commitment to each other and that may or may not include a conventional big white wedding.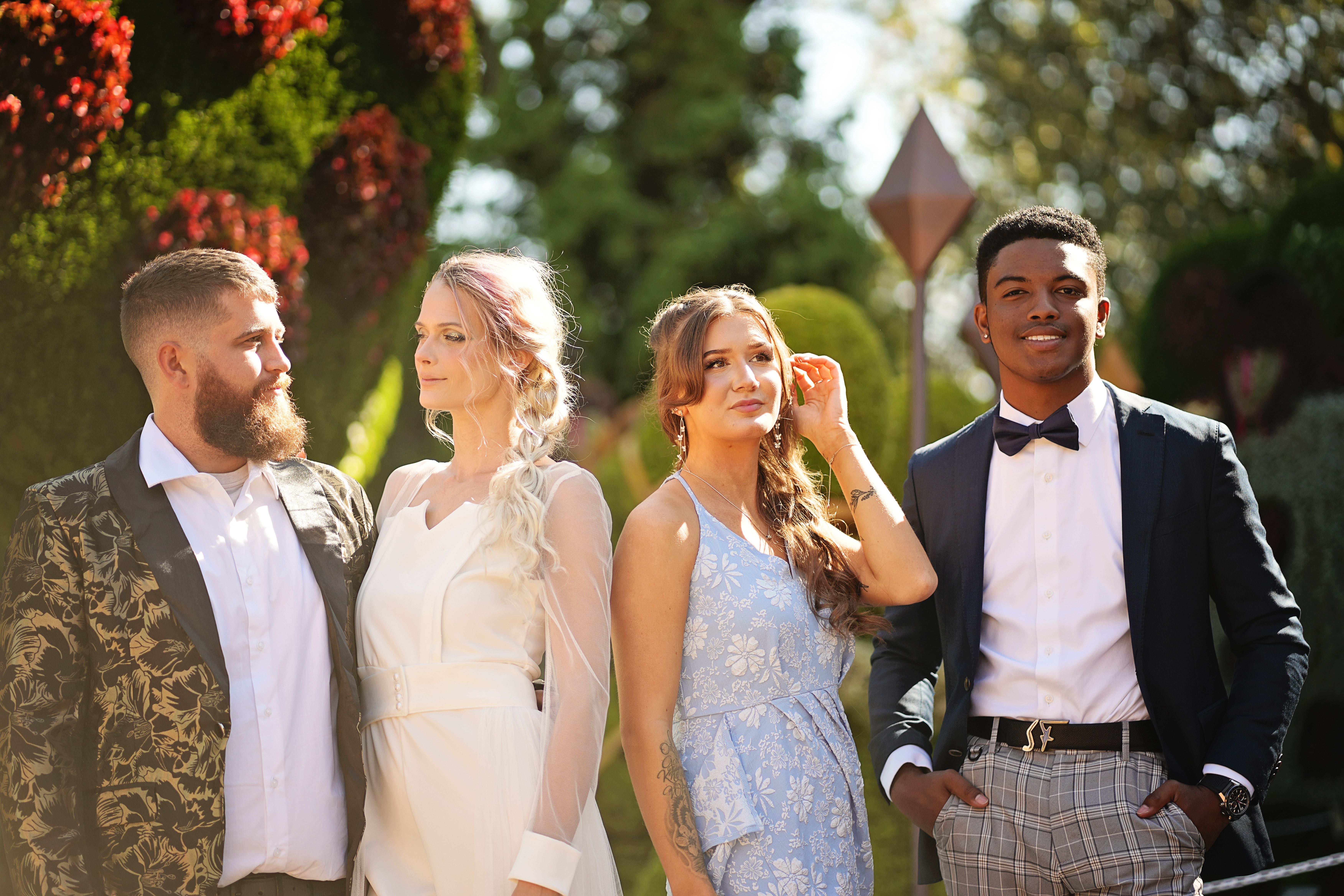 Bridal Dress Vs. Bridal Jumpsuit
With so many different styles of bridal jumpsuits, it's no wonder more brides are opting for comfort over convention. There are options to dress a jumpsuit up or down depending on your personal style. Brides could choose to wear a classic veil or bridal cape to incorporate some traditional details into their final look. Styles can be found in wide-leg, lace, strapless, cap sleeves, sleeveless, and a host of other design elements donning feathers, lace, and intricate beading just to name a few. If you just can't forgo saying yes to the dress, bridal jumpsuits also serve as an amazing option to change into for the reception.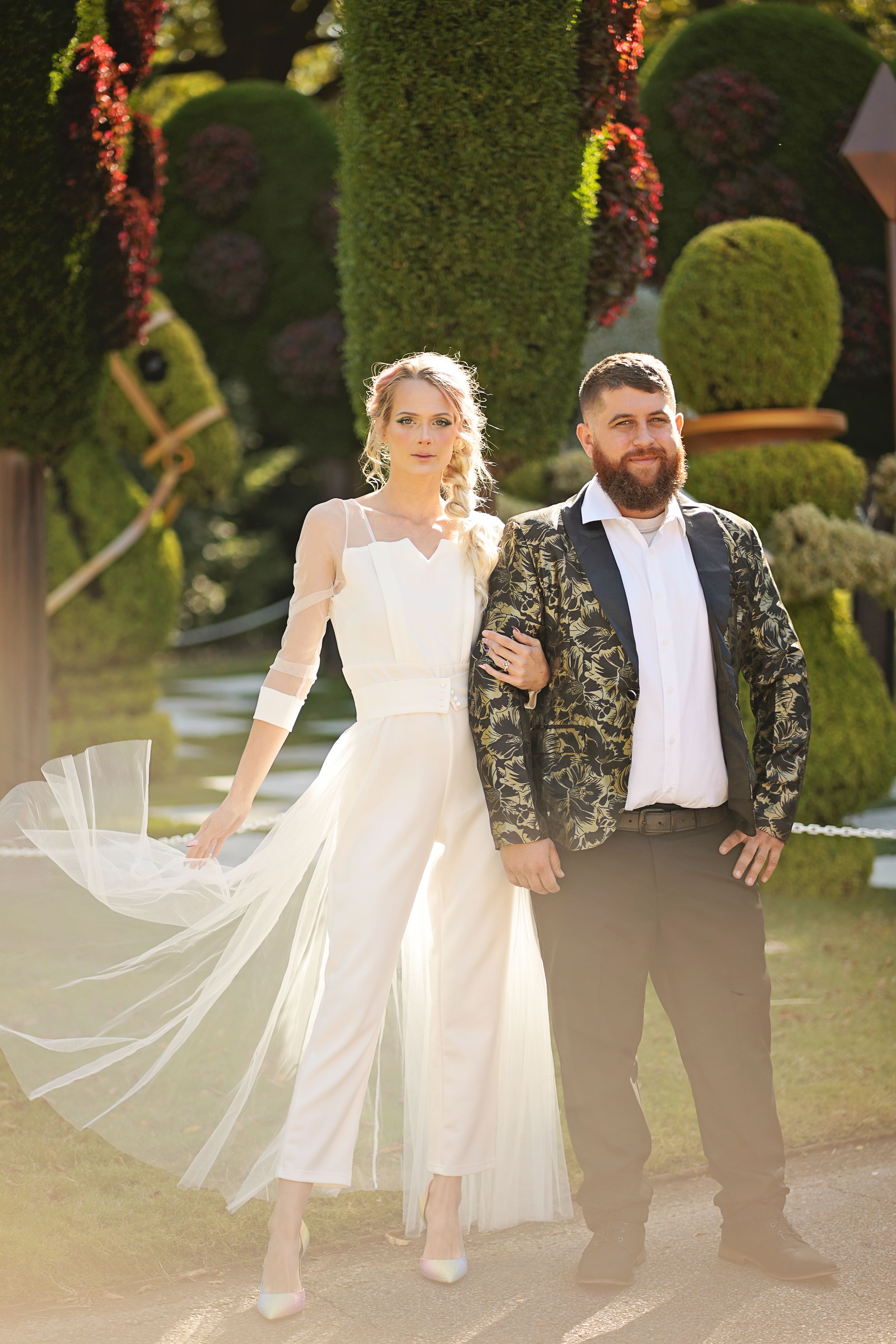 Sweetheart Table
Alice and her new hubby have arranged a sweetheart table covered in luxurious ivory specialty linen and decked out with teapots, stacked books, a geometric candle holder, and lanterns. The formal place settings are set for a delicious dinner for two accented by navy blue velvet chairs. Placing the whole dining experience in front of the colorful mosaic wall really added an artistic element of surprise to this elopement.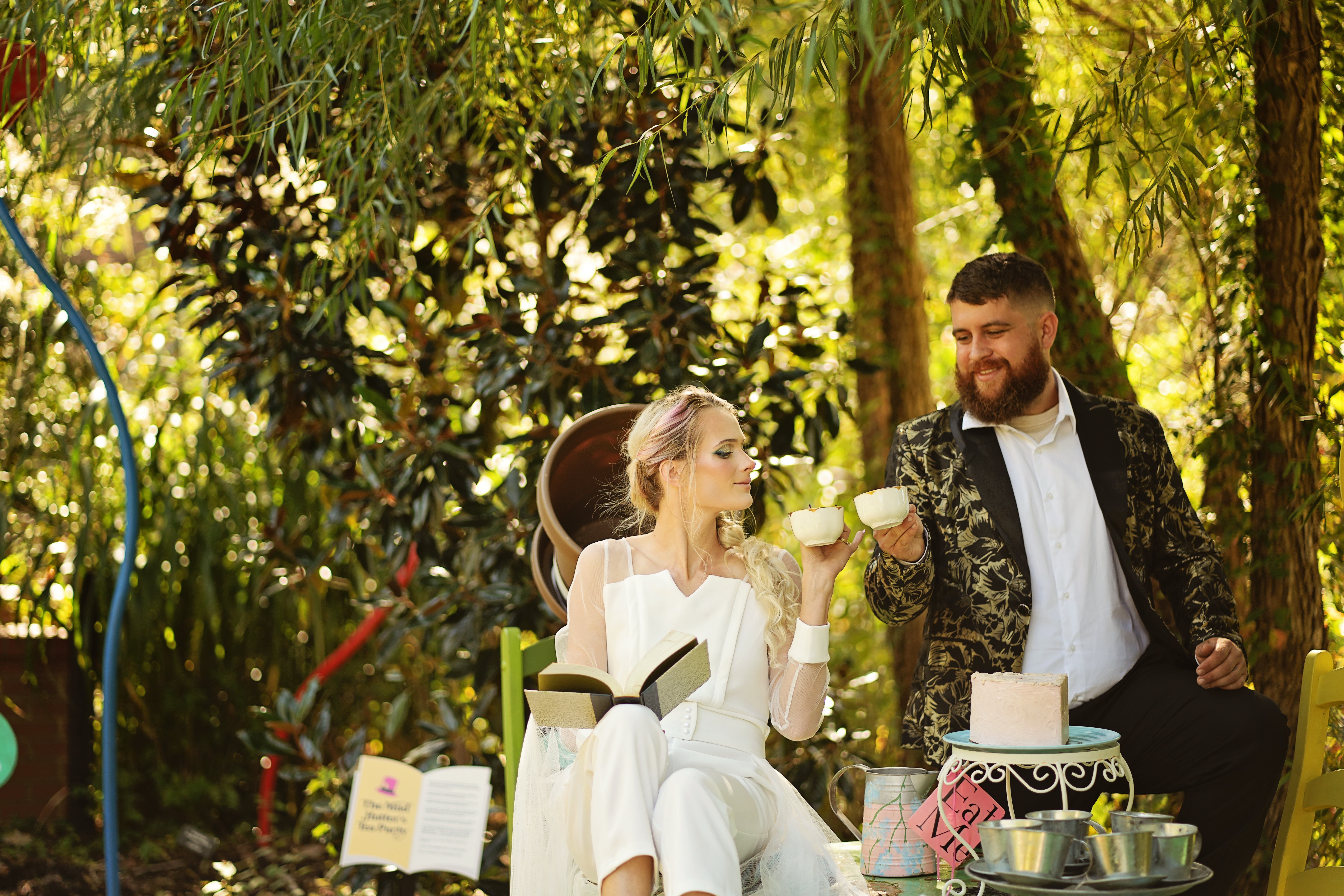 A Kid's Table
One of the elements in this fun-styled shoot was the precious flower girls! Flower girls would be an adorable addition to any elopement, but you'll want to plan something special for them to do. An interactive kid's table may be the answer. Stephanie Faulk-Hoffman with How Eventful Rentals came in with the forest green linen, checkered runner, mushroom twinkle lights, and wood-covered vases to set a more traditional mad hatter scene. The clock perched in the tea set case set off this whimsical wonderland look. The best part is everything on the table is child-friendly serving as toys for the flower girls to play with throughout their dinner.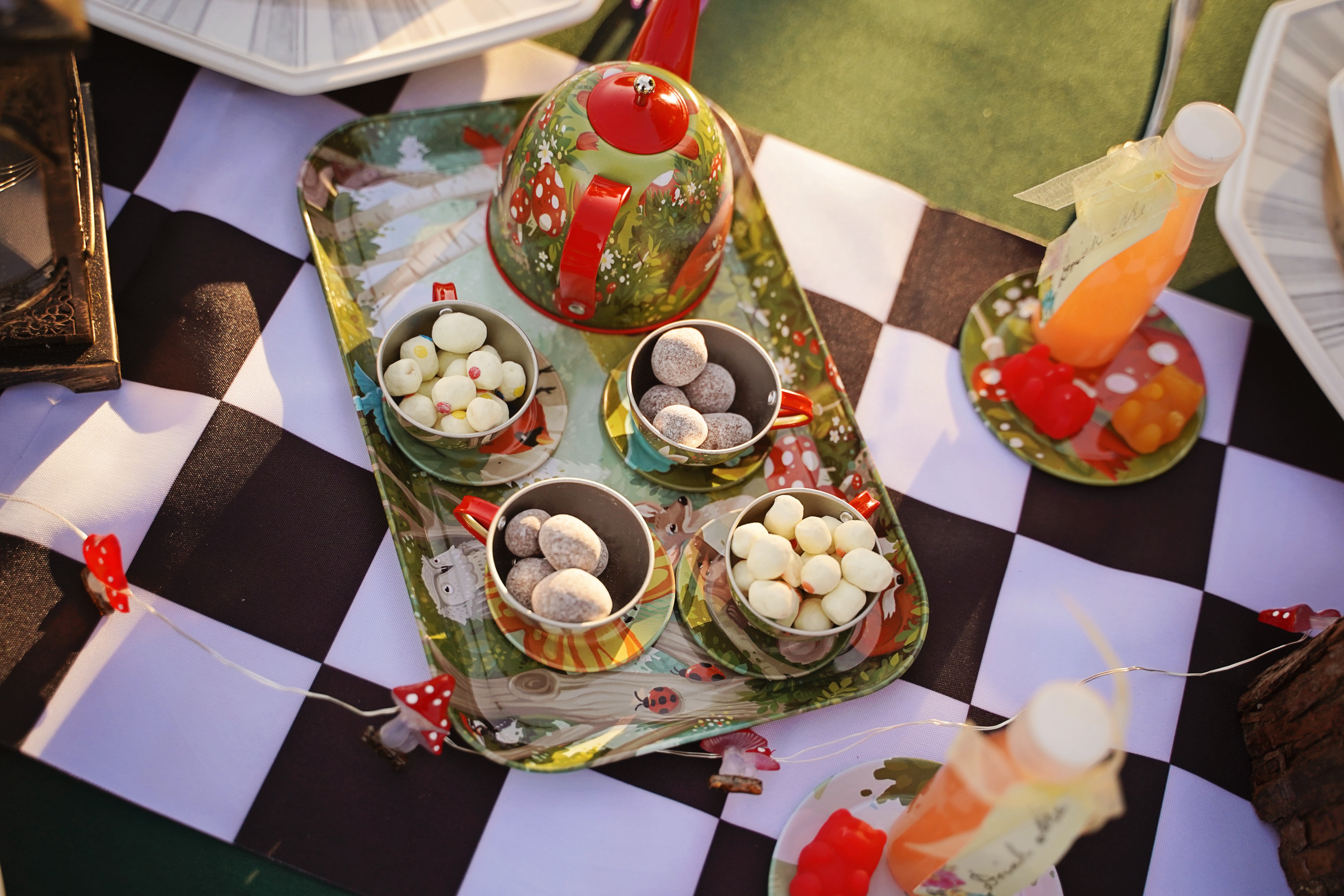 An "After" Tea Party
Why not have a few libations with your best man and maid of honor after the formalities? Our couple created an adult tea party to finish off their elopement with good conversation and good tea. Adding a little alcohol to a tea recipe may be just what the mad hatter ordered, so check out our Love Potion cocktail tea recipe below for a fun option, or create your own!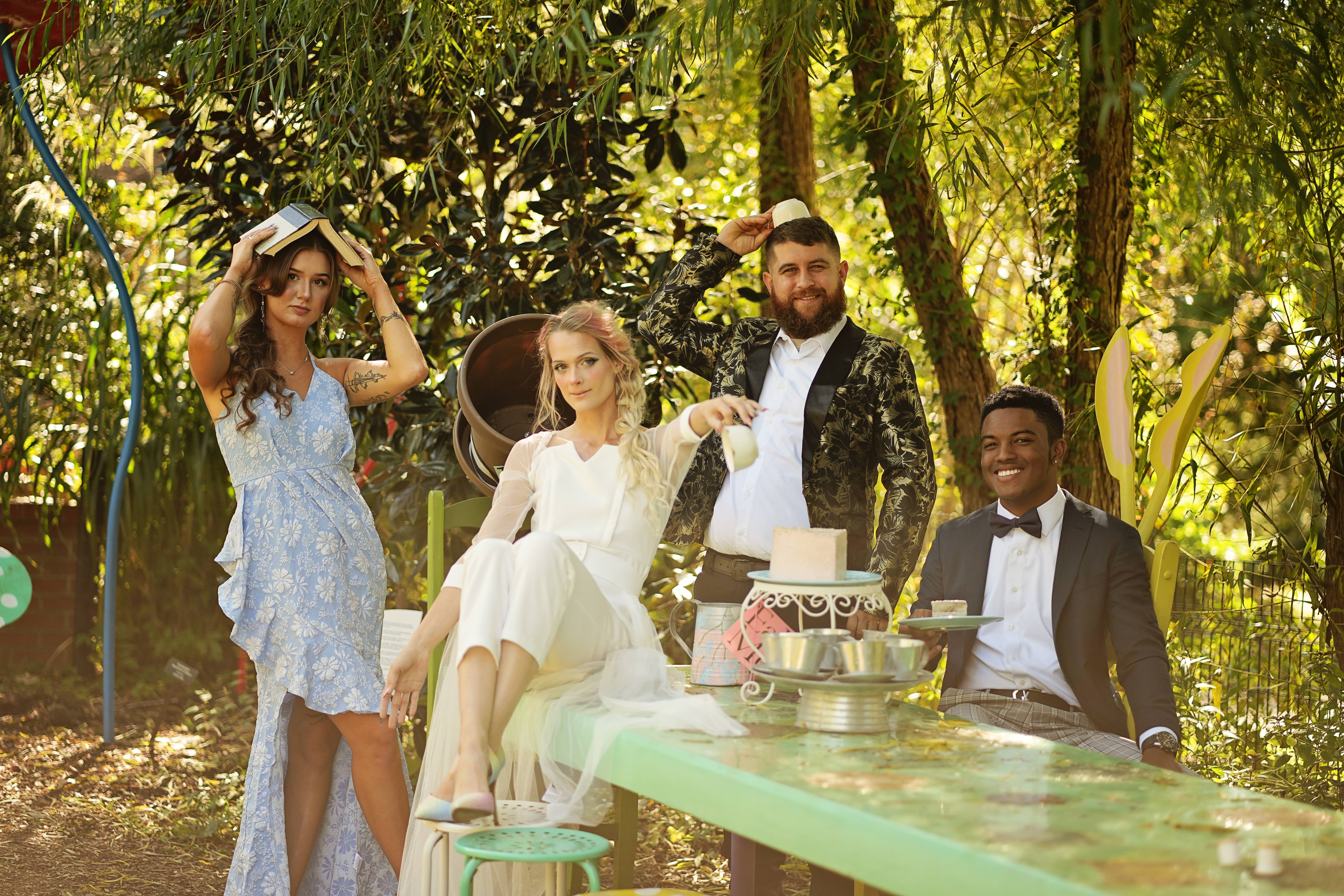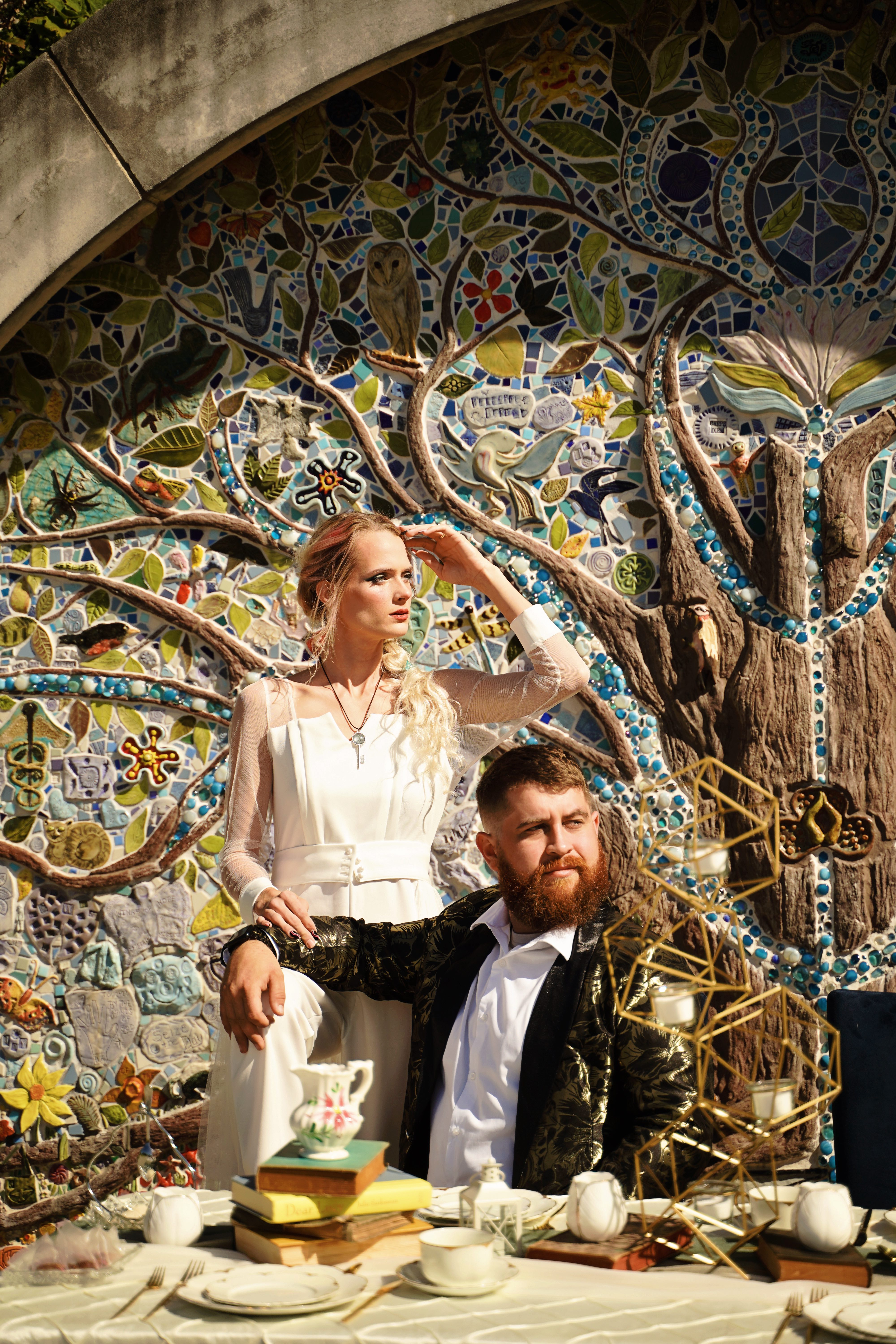 Love Potion Cocktail Tea Recipe
Tea Ingredients
1 passionflower tea bag
2 cups boiling water
Cocktail Ingredients
2 ounces of tea (prepared from the tea ingredients)
4 ounces of gin
1 ounce freshly squeezed orange juice
1 tablespoon honey
Optional: Garnish with two orange peel spirals
Instructions:
Tea
In a large measuring cup, add 1 passionflower tea bag. Pour 2 cups of boiling water over the tea bag. Add honey. Steepe for 15-20 minutes, discard the tea bag, and cool.
Cocktail
With a zester, peel off 2 long strips from an orange to use as a garnish for each glass. Cut the orange in half and squeeze 1 ounce of juice.

In another large measuring cup, add 2 ounces of cooled passionflower tea, gin, and orange juice. Mix until combined.

Serve on the rocks in a teacup.

Vendor Team
Photography: Cindy B. Thymius Photography, https://www.cbtphotography.com/, @cindybthymiusphotography
Event Planner: How Eventful Events & Design, https://www.facebook.com/howeventfuldesigns/, @howeventful.events
Location: Memphis Botanic Garden (and nearby Bloch Park), https://membg.org/, @memphisbotanic
Fashion Coordinator: Stephanie Faulk-Hoffman, https://www.instagram.com/steffie.kraut/, @steffie.kraut
Fashion Coordinator: Scarlett Hanna, https://www.instagram.com/scarlett_fairclough/, @scarlett_fairclough
Rentals and Props: How Eventful Rentals, https://www.instagram.com/eventful.life.rentals/, @eventful.life.rentals
Makeup: Total Beatdown, https://www.instagram.com/totalbeatdown/, @totalbeatdown
Nail Artistry: Bewitching Nails, https://www.instagram.com/_bewitching_nails/, @_bewitching_nails
Custom Jewelry: Seacrow Arts, https://www.facebook.com/SeaCrowArts/, @seacrowart
Freelance Models: Chandler Hanna (@hanna.chandler), Chandler Greer (@chandler_greer03), Mckinley Brown (mckinley_brown), Scarlett Hanna (@scarlett_fairclough), Kaylie Stalls, Talena Smiley, Emma Watson, Eliza Boer